If you are looking to copy an existing tank or need a shaped tank that maximizes the area of an available space, then the custom tank option is for you.
Food grade HDPE (High Density Polyethylene) wall thickness 10mm
Hand welded panels and baffles

Hand welded accessories

Flexible mounting locations

Pollution-free water

Suitable for water, black, grey waste and Diesel.
NOTE: Custom fuel oil tanks cannot be installed in an engine compartment on a boat unless separated by a fireproof bulkhead.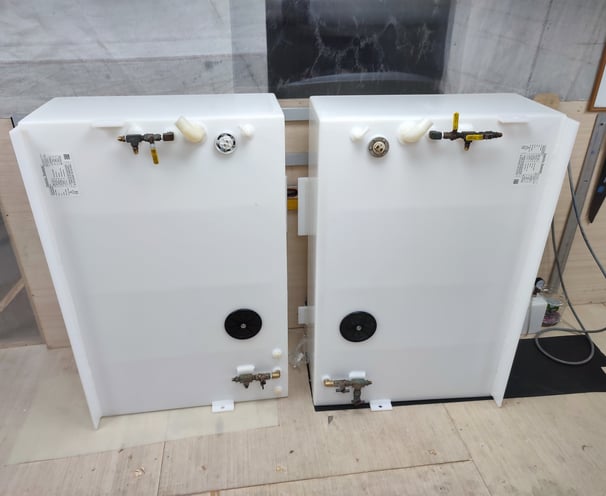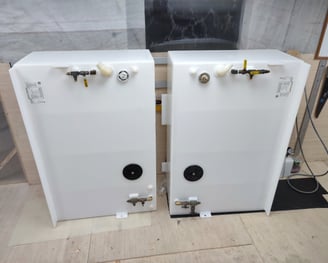 For more information on custom tanks, click here to go to our design and installation guide
First, we talk about the quality of the product. In our case plastic does not mean cheap. They are not like molded tanks with a low wall thickness and no internal walls. They are tanks made of plastic of the highest quality (it is a product linked to the price of barrels of oil), designed to the maximum level for its application, whether it is a boat, vehicle or home, and accepted by the military of Spain and Portugal.
Each tank is made by hand, with all the client's considerations, with the greatest possible accuracy to avoid installation problems.
The result is a tank exactly to the customer's specification with an enormous life at a price much less than stainless tanks. Repeat - huge life, less price than stainless.
The tanks are tested with air pressure 50% more than the CE standard requires. It is an example of the quality and confidence we have in our product.
The tanks have CE ISO8099 and ISO21487:2018 approval for pleasure boats and you can request a copy of the certificate.
Guaranteed for 5 years against poor manufacturing - A good investment.
Polyethylene is a material perfectly suited to contain products for human consumption - Perfect for drinking water without a contaminated taste or metallic taste.
10mm thick welded edges - A thickness perfectly suited for the tank and very strong edges and leak prevention.
Specifically designed internal baffles - they give a high strength structure with maximum stability
We test all tanks with pressure 1.5 times higher than European standards. A pressure of 3 tons per square meter - We demonstrate our confidence in the tank by the way we use it when testing it.
Regular shaped tanks are manufactured within 3mm tolerance. It is possible that irregularly shaped tanks have a tolerance of up to 5mm.
An established high quality product for companies and individuals and we have a repeat order from Military, shipyards, dockyards and nautical companies in Spain, the Balearic Islands and Portugal.
High quality custom tanks that you would only have to buy once.
A good investment!
We also have a range of standard tanks
How to get a quote?
Send email with measurements to info@boatwide.es